Ishinomaki Rice Paddy Support Business Dec.2018.
The soil stores its reserves.
JP
EN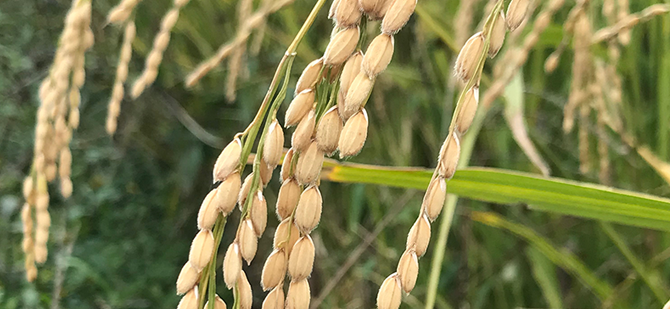 A story about succession in the agriculture business
Looking at the arrangement of the six prefectures in the Tohoku region, I thought that for those from Aomori prefecture, migrating to Miyagi prefecture on the Pacific side, or Yamagata Prefecture on the Japan Sea side would make no difference.
In the middle of October, during the final stage of harvesting the rice fields, I was finally able to visit Ishinomaki, Miyagi Prefecture. While there, I had the opportunity to hear a story from a farmer who had given a young farmer some practical training. He told me that the young farmer, who he had instructed back in Miyagi Prefecture, decided to take over the business from another farmer in Yamagata Prefecture. According to him, in that part of Miyagi Prefecture, a list of farmers wishing to succeed in business isn't centrally managed. Also, there isn't any structure in support of resolving sensitive issues regarding succession. Therefore, the young farmer had to move to Yamagata Prefecture to put his plan into practice. In order to increase the population working in agriculture in the area, the local farmers accepted migrants and instructed them in the agricultural practices. But the migrants won't always establish roots in the locale, thus it causes a fading of motivation from the local farmers. This is what they are facing, and I heard that they wish to improve this current system in the area.
Though the young farmer had studied agriculture academically in Miyagi Prefecture, and was instructed in actual field work under an experienced rice farmer, with whom our company also has a connection, he then moved to Yamagata Prefecture while keeping a good relationship with his master. It seems that this kind of people exchange will bring about a desirable network in the big picture.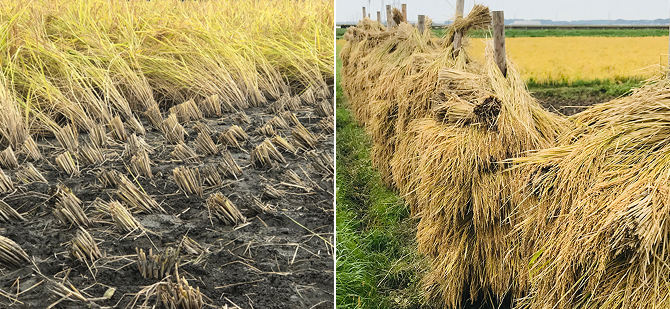 Speaking of the story of business succession, I remember when I visited an innovative shiitake mashroom farmer in the northern part of Sendai in the middle of April. The one who attended to me was a consultant who devotes his steady and honest efforts in the support of farmers. Here is a brief story which I heard from the consultant and the shiitake farmer.
In the aftermath of the Great East Japan Earthquake that occurred on March, 11, 2011, the local farmers were not able to use konara oak (quercus serrata) and mizunara oak (water oak, or quercus mongolica) lumber for shiitake cultivation due to the actual harm done by the radiation release, but also from the ill reputation the area earned as a result of the nuclear disaster. Someone with great generosity in Oita Prefecture volunteered kunugi (sawtooth oak, or quercus acutissima) upon hearing about this predicament in order to repair their reputation. However, the shiitake cultivation with kunugi oak is difficult in the Tohoku region. So, while there were many farmers abandoning the use of kunugi in shiitake cultivation, the farmer I'd spoken with was devoted to not giving up nor losing motivation out of respect for the kindness received from those in Oita, and to work towards the recovery of the business from the devastation brought about by the tragedy.
I happened to be there when the topic of business succession from the parent to their son was brought up. The father had thought about whether to shift from being self-employed to being managed by a corporation for a smooth transition. But the mother voiced an unexpectedly strong opinion that there would be many difficulties in making the corporation option to come about. Therefore, for the time being, the topic was postponed.
In general, to change from farmers being self-employed to falling under corporate management, in taking over the agricultural management, there are many issues relating to the assets and stored harvests of the farm: storage buildings, farm machines, various materials, Seeds and bulbs, crops, cattle, milking cows, breeding cows, hogs, and other farm animals. Also included in the provision are funds in reserve that are allowed to be kept for necessary expenses and deductions, and in some cases there may even be shares of stock to consider as well. All of the issues that could arise in how to assign these assets to the corporation or to the next generation are probably preoccupying the minds of farmers who are considering business succession, along with tax concerns. I think that this is what makes them nervous and worried.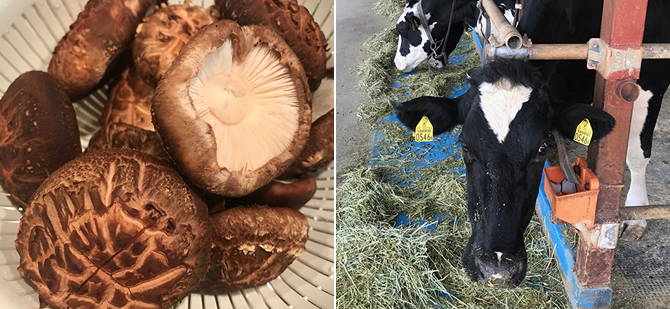 Even at this time of spring, the shiitake that this farmer cultivated is thick and rich, so that it instantly becomes a special delicacy once it's grilled with a drop of soy sauce. I was on the receiving end of much sharing and hospitality.
By the way, recently the media has been reporting about an increasing number of young people who hope to get into agriculture. But from the perspective of young people who engage in farming on a family-run farm but aren't family, no matter how hard they work, there will be no chance for them to take over the farm. This might cause a decline in their desire.
In the past, the Kitakami River repeatedly flooded, but the land along the river was also able to accumulate nutrients through the floods. Flood control was introduced through fierce perseverance, and thus, paddy fields were Developed. A rice farmer who continues to make high-rated rice from the land which has accumulated abundant nutrition is confident in sustainability of their current natural farming practices. There is a saying that goes, "Sasanishiki is a modest rice which doesn't require much nutrition to grow. I don't feel the soil will become thin in making Sasanishiki." If the land persists in this way, the farmers who cultivate it should be prosperous. Though if no one is there to cultivate such land, it would be regrettable. Such a well-designed operation, which allows farmers to prosper in a reasonable manner, should properly be carried on by the current generation and passed on to the next. Otherwise, we can't face the precursors who toiled. I was thinking about such a thing while on the way back to Tokyo.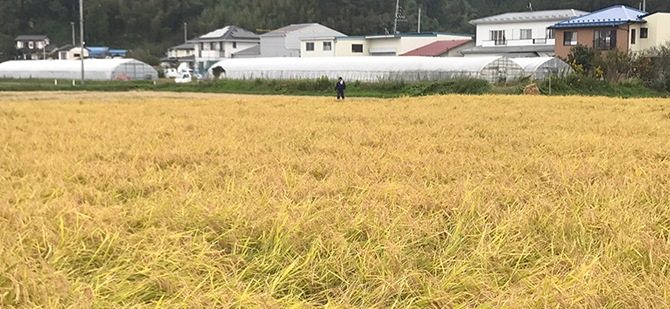 After coming home, I received a call from the rice farmer in Yamagata. He said he was told by a bank clerk, who had come by, "Although with fickle weather, the rice of this house is of high quality, thanks to the nutrients that the soil accumulates." The soil stores its reserves. I'd like to think deeper about this.
Rice farmer who is about to begin the key stage of harvesting
In the middle of October, as if ignoring the paddy fields of other farmers, who have already finished harvesting, in the paddy fields of Ishinomaki they are about to begin the key stage of harvesting. The paddy work that starts late and ends late is the annual schedule of farmers here. It's not always a good thing to rush things.
In the distance, white cylindrical objects are lined up somewhere in a farmer's paddy fields where the harvesting already ended. I heard that they are filled with "feed rice." On the other side, there is a farm where soybeans are grown. It is managed by a farmer who rotates crops such as rice, wheat, and soybeans in order to improve labor efficiency through soil quality.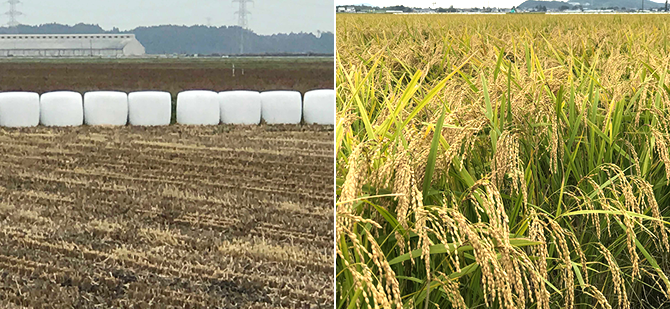 But it's on this farm that they earnestly keep cultivating Sasanishiki with no need for either pesticides nor fertilizers. They are paying close attention to the drying condition of the harvested rice. There are both merits and demerits in removing moisture at a given rate. However, there are always opportunities for improvement, even for rice made in such a way. Rice harvested in autumn is kept over winter, spring and summer, so, as it is still raw a food, the taste will deteriorate. This rice farmer is working on developing of a method of storage to prevent this deterioration, and we are cooperating in our small way to realize this challenge.